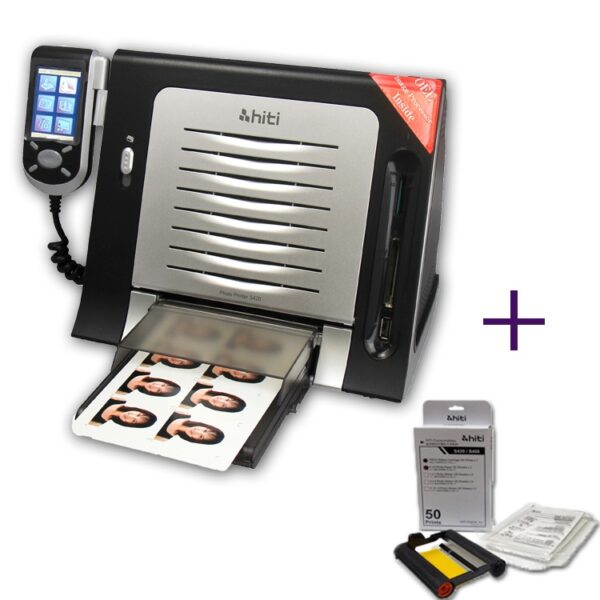 Hiti ID & Passport Photo Thermal Dyesublimation Clour Printer DS-420
2.5-inch LCD Controller – easily edit photos even without PC
Exclusive LinkPrint Direct Printing Technology – powerful interface with storage devices
Embedded ID Formats Selection with IDesiree 2.0 – flexibility at its best
Print multiple Formats even on same photo paper
HiTi Classic Color technology – Award-winning Output Quality
Magic Coating Technology – for enduring, high quality photos
Effective Dust Resistant Design
Watermark Function for Customization
Widely used, tested and trusted Passport & ID printing Machine
HITI S420 PHOTO PRINTER – ID & PASSPORT PHOTO PRINTER
PRODUCT INFORMATION: HITI S420 ID / PASSPORT PHOTO PRINTER
Versatile, high-performing, portable and outstandingly durable, the HiTi S420 ID passport photo printer is your dependable companion for high-volume photo-printing. It's an award-winning, globally trusted photo printer that delivers outstnding results and is great for commercial usage. Its wide range of embedded ID formats means you can print to any desired format with ease.
Print fast and easy using the special features of the HiTi S420 photo printer, which offer printing flexibility and best quality results. HiTi S420 photo printer's high performance is driven by its unique design and advanced technology. Here's what the manufacturer has to say about the smart features that help the HiTi S420 deliver outstanding printing performance:
KEY FEATURES AND FUNCTIONING OF HITI S420 ID / PASSPORT PHOTO PRINTER
2.5-inch LCD Controller
The color LCD controller, with multi-language and graphical user interface, allows users to edit images easily without the need of a computer.
Exclusive LinkPrintTM Direct Printing Technology
HiTi S420 has LinkPrintTM technology offering a functional connection interface between the printer and various storage devices including flash memory cards, digital cameras, USB drives, and many other USB devices.
Embedded ID Formats Selection
With a wide range of embedded ID format selection, HiTi S420 offers you a total solution for all your ID photo printing needs. In addition, a free bundled software, IDesiree 2.0, gives you unbeatable flexibility in ID format designs to satisfy the ID photo market demand worldwide. You can even print mixed formats with different images and sizes of ID photos on the same photo paper.
Effective Dust Resistant Design
To ensure highest print quality, the dust-proof hatch door opens and closes automatically during the printing process, preventing dust from entering the printer. In addition, a protective cover over the paper cassette and an optional detachable rear dust shield further enhance dust resistance capability, ensuring beautiful and dust-free prints every time.
World Leading Output Quality
Utilized HiTi Classic ColorTM technology, HiTi Digital Photo Printer have won 4-time DIMA shoot-out awards in 5 years for their outstanding quality and exceptional performance.
Magic Coating Technology
HiTi's dedicated color ribbons come with exclusive Magic Coating technology. The Magic Coating technology lays a protective and transparent coating layer over the photo once the color sublimation process is complete. HiTi's Magic Coating is water, UV-ray, fingerprint and smear resistant. This Magic Coating technology also provides an optional watermark function, which can be customized to personalize photos or used as a counterfeit protection.
New and Improved Consumables
HiTi photo printer S series use the exclusive new generation dye-sublimation consumables for improved color reproduction, image quality, and faster printing speed. New color ribbon formula advances the color characteristics, and the new photo paper base enhances the image brightness. A transparent resin layer (Magic Coating) protects the photo against water, UV-ray, fingerprint, smear, oxidization, and color fading.
10,000 Prints/ 1 Year Limited Manufacturer's Warranty
To ensure highest print quality, HiTi offers a 10,000 prints/1 year limited warranty for HiTi photo printer S series. For more and complete warranty information, please refer to the warranty card for details. Warranty may not be available in all regions